Ok
I am going to try this blogging thing again. I started one a year or so ago but was terrible about keeping it updated. Let's see if I can be any better about it this time.
Let's start back up and start at the beginning.....

My husband and I have been best friends since the first day of fourth grade. We saw each other through relationships, the death of his mother, high school and college as just best friends. Although I compared all of my boyfriends to him, I never thought of him as anything but a friend. We even attended a dance together as friends.
(see pic circa 1990)
That all changed when we were 23. He had moved from Massachusetts to Virginia for a job opportunity and was back in Boston visiting. He asked if he could stay at my apartment the last night and would I drive him to the airport in the am. I
didn
't think anything of it as we had done stuff like that before. We had dinner, watched a movie and hung out and then it was time for bed. We got in our
pj
's and got into my bed. I never thought twice about it as we had slept in the same bed on other occasions. My super strict parents had even let me sleep over his house a few times because they knew that we were nothing more then friends.

We stayed up all night talking. At some point I remember thinking that I wanted him to kiss me. Then a voice telling me that I was being silly, it was Rich, my best friend, like a brother to me and I thought that I was being ridiculous for thinking like that. Next thing I know, he told me that he loved me, that he always had and that he would love to spend the rest of his life with me. I had to admit that I felt that same way. Without ever going out on a date or even sharing a kiss we talked about marriage and babies that night and I knew that my life would never be the same.
That happened Memorial Day weekend and we flew back and forth to spend weekends with each other that entire summer. On the 4
th
of July we went window shopping for wedding rings. At the end of September I moved to Virginia to be with him. Meanwhile, I am waiting for my ring. We looked at them in July and several months had gone by. I had been opposed to living with each other but
couldn't
be apart from him nor afford my own place with no job but he knew that I wanted to make it official as soon as possible. Christmas came and went, no ring. My birthday in mid-January came and went; no ring. Now I was starting to wonder if perhaps it would never happen. Granted we had only been together 7 months at this point but had known each other for 14 years.
In late January we went back to Massachusetts for my Grandparents 50
th
wedding anniversary. The morning of their anniversary we went for a ride. After driving by and reminiscing about all of our childhood haunts, we arrived at the elementary school where we met at the age of 9. We pulled me on to the playground and explained that he had taken me to the place where we had met because he could think of no better place to ask me to be his wife. Of course I said yes and 21 months later we were married. We have been married over 7 years.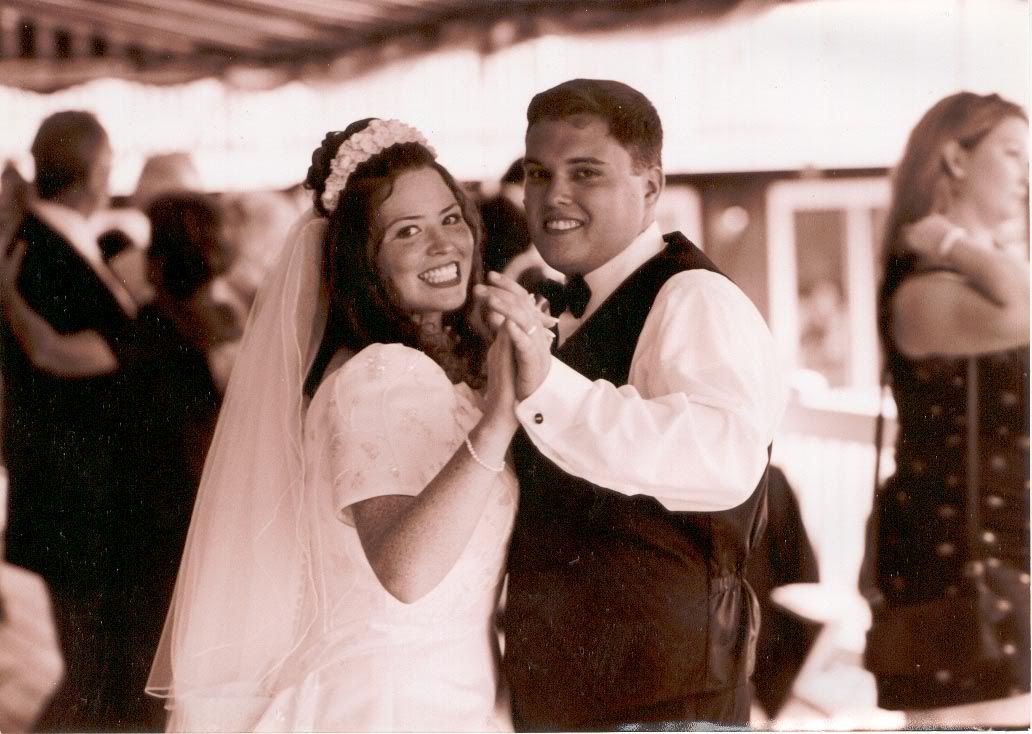 We now live in NH were I am a
SAHM
to our 3 children. I am Sarah (did I forget to start with that? ) Lauren is 5, Kathryn is 3 and Zachary is 3 months old.
Ok
, we got all of the boring stuff out of the way. If you have read this far stayed
tuned
, it will get more interesting. I promise!